Sameera Nayak, Margaret Hicken
This month, our IAPHS Member of the Month is Thu Nguyen, who is on faculty at the University of Maryland.
Can you tell us a little bit about yourself with regard to your training and your current appointment?
I'm an Associate Professor in the Department of Epidemiology and Biostatistics at the University of Maryland School of Public Health. I earned my masters in epidemiology at UNC and earned my doctorate in social epidemiology in the Department of Social and Behavioral Sciences at Harvard. When I was there, I wanted to work with all the amazing people in my department and to study health inequities. But I also wanted to focus my training on advanced research methods and causal inference, so I completed the doctoral sequence in epidemiology as well. As a social epidemiologist, my research became a blending of both public health approaches to population health.
We understand that you also have some early experience outside of academia?
After college, I had the opportunity to be part of AmeriCorps for a year. I was interested in hands-on questions even before then, and one of my really good friends is a clinical social worker. Ever since middle school, I have been involved community service. One of the reasons why I'm studying and researching health equity, is that I feel I can use my creativity and my knowledge to make a contribution, even if I'm not doing active, direct community service. My very first study came about through my experience volunteering at the Pacific Free Clinic in San Jose, CA as a college student. At the end of each clinic, we volunteers were asking ourselves, "How did it go? What things went fine? What needs to be improved?" We were not yet asking the patients what they thought about their care. That became the basis of my undergraduate honors thesis. I conducted focus groups in English, Spanish, and Vietnamese, and administered surveys to patients in English, Vietnamese, and Spanish, to investigate the predictors of satisfaction of patient care. The connection between community service and health equity is the reason I was drawn to this area.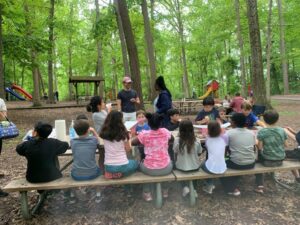 Could you tell us a little bit about your research?
My main research interests over the years had included the health consequences of education attainment and the built environment and, more recently, racism and discrimination. This more recent line of research started when I was working on my American Heart Association post-doctoral fellowship, looking specifically at experiences of discrimination in the health care setting and biomarkers of cardiovascular health. I became interested in developing new approaches and measures of discrimination that would complement individual-level self-reports. A colleague of mine uses Twitter data to measure the food environment and the physical environment, and I thought we could these types of data to study racial attitudes and bias because people discuss a variety of topics on social media, including experiences of discrimination.
To better prepare myself for this area of research, I developed a K99/R00 career development proposal to NIH to gain training specifically in: 1) the analysis of Big Data techniques to fully harness emerging data sources, 2) measurement of discrimination to evaluate existing measures and construct new ones, 3) stress physiology to understand the pathways through which discrimination can impact health and development.
With this training, I could develop area-level measures of prejudice and discrimination using online social resources. My current R01 builds from my K99/R00training to continue to develop more nuanced models and measures of area-level racial bias. It incorporates the guidance of a community advisory board and findings from focus groups made up of racially and ethnically diverse groups of women to inform the study and make sense of the social media data.
I have a follow up question for that!  What does it mean to do so using social media? What have been some lessons that you've learned about using social media to create area level measures prejudice or discrimination?
We started simply and built a model to capture the sentiment or the emotional tone of the tweets about various racial and ethnic groups. But of course, there are limitations to measuring sentiment. For example, when we analyzed the tweets qualitatively, the emotion and tone don't necessarily indicate an expression of racial prejudice. The basic algorithm also cannot detect humor or sarcasm. In many ways, it's a blunt tool. Now, we're trying to develop a more nuanced model that actually picks up expressions of prejudice. Another lesson that we learned is that it's really hard to collect the Twitter data. It's great to use the Application Programming Interface (API), but it took a year to get that data collection started. These are also messy data. Sometimes there is no geographic location or inaccurate location. It's challenging but also exciting because this is new area of research in examining large amounts of unstructured social media text to measure and evaluate place-level racial bias.
Your work is only possible by drawing on different disciplines, which it sounds like you've learned just from doing the work of having to piece together these really complex projects. What advice do you have for interdisciplinary scholars who study population health?
Academic life can be isolating, filled with lots of failures and rejection. But, I think one of the best things about being in academia is finding your people — finding people who understand you and understand what you're trying to do. Creating your intellectual community for support, engagement, and collaboration is one of the best parts of doing this sort of research. What I have found so powerful and meaningful is conducting research in partnership with so  many different people with different types of training and at different career stages. My work is made possible through the collaboration with a multidisciplinary team of folks with expertise in epidemiology, machine learning, and community engaged research.
Could you tell us a little bit about what you love about IAPHS?
I love the premise of the association being interdisciplinary and focused on health equity in many ways. I like what the association stands for and also the important work that the members are doing.
What advice do you have for scholars who are interested in interdisciplinary research? 
Interdisciplinary work is something that has worked for us because the project has multiple components that build from scholarship in different disciplines. It's really helpful when we rely on each other's expertise. Everyone has a distinct role, and we lean on each person's expertise to create a more complete picture of the ways that the social world might impact health.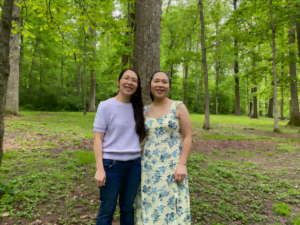 We wanted to ask about one thing that makes you a very unique member of IAPHS. Some of your interdisciplinary collaboration is with your sister.  What is that like?
Yes, she's my twin, too.  We were together for a lot of our training; we went to college together, and we completed our master's degrees together; then we kind of split off in our own career trajectories for a little bit. But now I'm actually in the same department as Quynh, and it's awesome to be together again. We actually didn't collaborate for a long time– we only started collaborating beginning a few years ago.
We are good friends, and she brings a different side to the collaboration. She is focused on more like the built environment, and my research is on social environment. When we collaborate, each of us brings in those different pieces. She started in data science before me with a project on the food and physical environment. When you have somebody that you are close with, but you can also collaborate with, that's a nice combination, and I'm happy we're working together.
You can learn more about Thu's work at the Big Data for Health Equity (BD4HE) research collaborative https://bd4he.org.