Population health is the health of all people living in a given place, such as New York City, Kansas, or Bangladesh. It also refers to differences in health – for example, between the rich and the poor.
A population's health is the product of many causes, operating at many levels "from cells to society" (see infographic below).   Research to understand these causes can point to new ways to improve population health — see "How Can Population Health Science Improve Health?" for examples.
Your zip code matters more than your genetic code when it comes to health.  "The Power of Place: A tale of two twelve year-olds" tells the story of Ella and Amara, and how their prospects for healthy lives are shaped by where they live.
Improving Health & Reducing Health Disparities through
Multi-Level Population Health Approaches.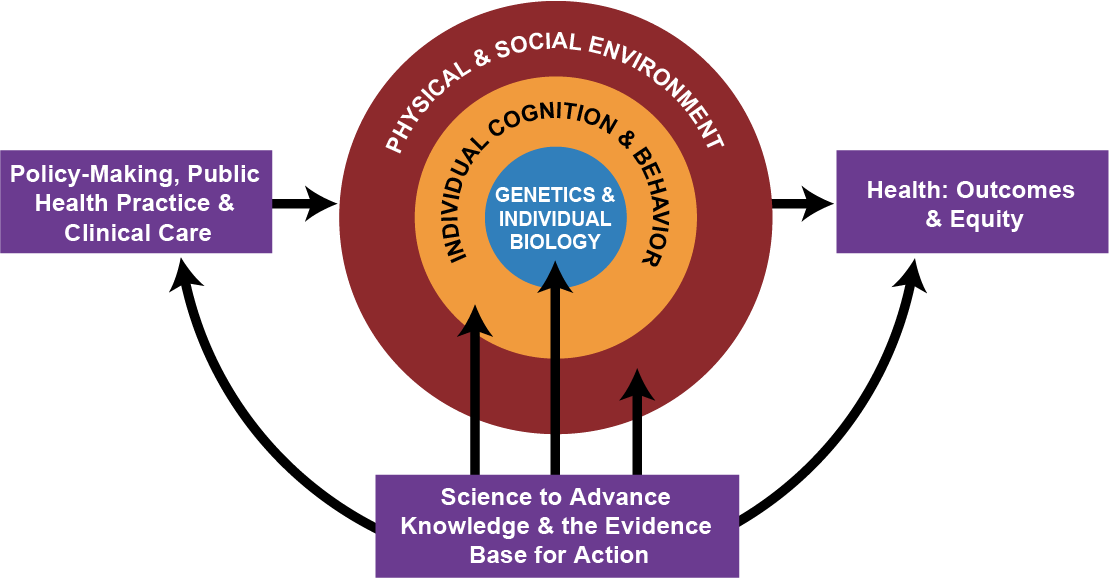 Population Health Science Meets Population Health Action
Finding effective ways to improve population health requires both science and action. Science provides for the systematic study of the causes of and potential solutions for population health problems; action engages people, institutions, and communities in efforts to improve health. Each needs to inform the other.
POPULATION HEALTH SCIENCE
Population health science is an interdisciplinary and multi-method approach to producing knowledge about: population health levels & disparities; the intertwined & multi-level causes of health and disease, from genes, to behavior, to social and physical environments; the mechanisms through which health and health disparities are produced; and what policies and practices will improve population health and ameliorate health disparities.
Population health science includes: local to global populations, studies of population subgroups, basic to applied research, diverse health outcomes and conditions, many different scientific methods and tools, contributions from diverse disciplines and sectors.
POPULATION HEALTH ACTION
Population health action seeks to improve health and promote health equity through interventions, policies, and practices at the local, regional, and national levels by implementing the findings of population health science.  It seeks to enlist multiple sectors – such as business, education, health care, housing, urban planning & community development, transportation, social services, government, and more – in strategic action to improve population health. In turn, the practice of population health action also reveals new questions and issues for population health science to investigate.
For some examples of population health action, read about the 2017 winners of the Robert Wood Johnson Foundation Culture of Health Prize.