IAPHS will offer Pre-Conference Workshops on Tuesday, September 29, 2020. Workshops will be held at the Conference Hotel. Pre-registration is required. Attendees may register at the time of registering for the annual conference. Click here to learn more.
Training Researchers to Inform Policy Workshop

September 29, 2020
9:00 AM- 3:00 PM
Training Researchers to Inform Policy (TRIP) is a one-day, 6-hour workshop that gives scholars a hands-on introduction to effective strategies for policy engagement. This workshop is focused on one thing: practical, evidence-based steps researchers can take to ensure that research findings and scholarly perspectives inform policy. Designed for accomplished senior professors and advanced graduate students alike, scholars leave the TRIP workshop with tools to become powerful players in policy and build relationships with policymakers, civic leaders, and journalists. These relationships can help spur evidence-based policy reform and innovation, and lead to rich new research directions and partnerships.
TRIP focuses on evidence-based best practices for public engagement built on proven evidence and best practices about when policymakers use research – and when they don't. The curriculum draws on an in-depth literature review and dozens of interviews with researchers and practitioners.
Participants will learn to:
• Build relationships with policymakers, civic leaders, and journalists
• Consider what type of public scholar they want to be
• Be ready for opportunities to inform policy
• Choose policy-relevant and community-informed research questions
• Combine rigor and impact
• Be an effective public scholar in a politicized era
• Collaborate with other scholars to achieve policy impact
---
Cost:
Student – $65
Non-Student – $140
(lunch and break food provided)
Improving your skills
as a mentor

September 29, 2020
1:00 PM- 4:30 PM
As faculty, we all received training as researchers. Maybe we received some training as teachers. Hardly any of us received training to be mentors. Yet we spend much of our time in faculty roles as mentors, and the quality of our mentor/mentee relationships affects both the experience and outcomes of our mentees and our own satisfaction in our jobs.
This workshop aims to help research faculty, postdocs, and advanced doctoral students improve their skill as mentors, using mentorship of graduate students as the focal example.
The workshop uses facilitated discussion among the participants, a case-based approach to discussing mentoring dilemmas, practical recommendations for solving difficult situations, and a forum for sharing strategies among participants. This workshop is based on adaptation of a curriculum that has been tested via a multi-site randomized controlled trial led by UW-Madison. Pre-post design has demonstrated improvements in mentor-mentee relationships and outcomes as reported separately by mentors and mentees.
---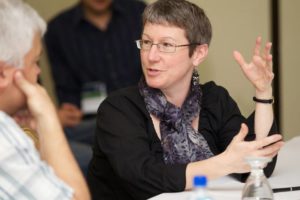 The workshop is facilitated by Professor Stephanie Robert from the University of Wisconsin-Madison. Dr. Robert is Professor and Director of the School of Social Work, and is also affiliated with numerous UW interdisciplinary research institutes and centers, and with mentored training programs. For over a decade, she was co-director of the RWJF Health & Society Scholars Program, which trained postdoctoral scholars from all fields to conduct interdisciplinary population health research. Read more
---
Cost:
Student – $45
Non-Student – $100
(break food provided)