Rachel Shaffer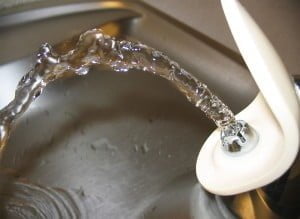 The crisis in Flint, Michigan, returned our attention to a problem that we would have preferred to believe was behind us: lead poisoning. This incident highlighted the dangers of lead-lined water pipes, but, unfortunately, there are numerous other sources of lead exposure throughout the United States. I've written previously about risks from contact with contaminated soil or through the workplace. Lead-based paint, outdoor air, and manufactured products also pose risks. Because of these diverse sources, eliminating lead poisoning is challenging and requires coordination across multiple programs and policies.
Understanding this complex need—and perhaps sensing the increased public concern regarding lead in the United States—the President's Task Force on Environmental Health Risks and Safety Risks to Children released a report entitled "Key Federal Programs to Reduce Childhood Lead Exposures and Eliminate Associated Health Impacts" in November 2016. This report describes the numerous federal agencies, regulations, and programs that have been established to address lead exposures in children. It also marks progress towards the development of an enhanced lead strategy that will address existing policy gaps.
The report is worth a read; you may be surprised by the number of existing policies and efforts aimed at mitigating lead exposure. There are almost 60 programs and activities administered by nine agencies and close to 30 specific regulations that address lead exposures, directly or indirectly, in children. Some of these programs and regulations include
Together, all of these efforts have contributed to the impressive decline in blood lead levels in this country, as illustrated in the figure below.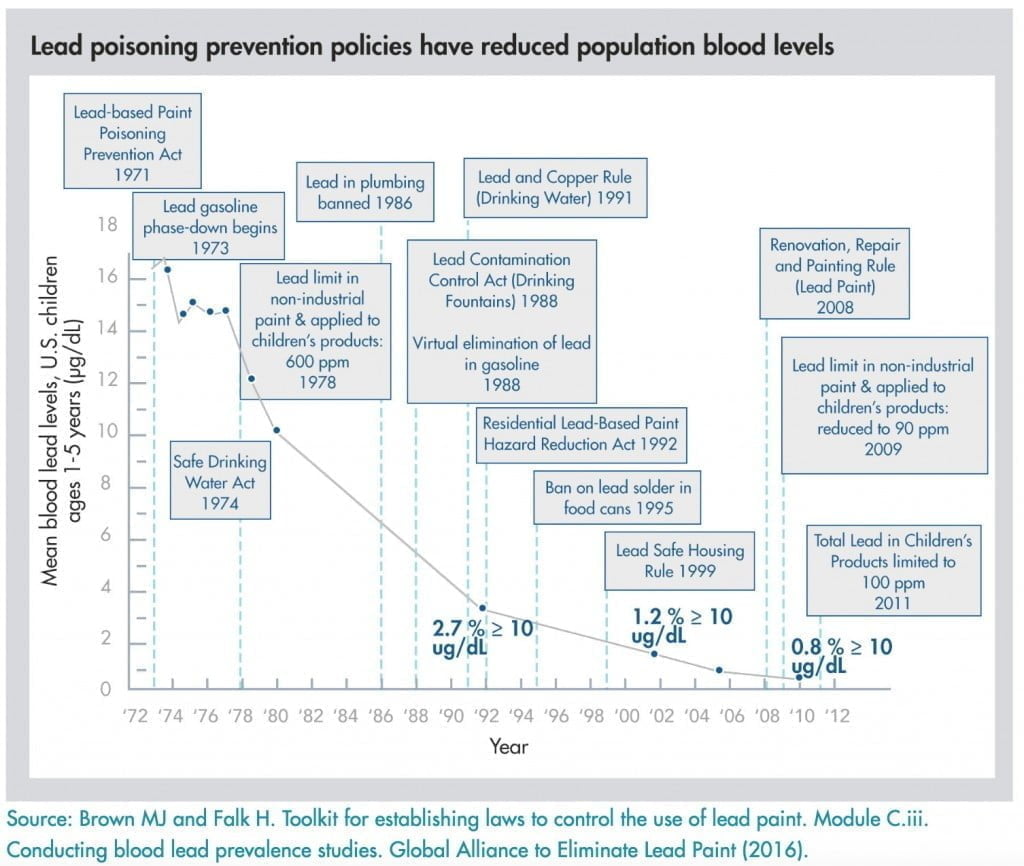 Despite this progress, significant challenges remain. Exposure to lead occurs disproportionately in minority and low-income families, and future work should focus on mitigating this disparity. As prescribed by Executive Order 12898, environmental justice must be a core component of agency activities.
To meet these environmental justice goals and continue to reduce lead exposure across the country, continued funding of these programs is essential. This report demonstrates that eliminating lead hazards requires parallel efforts and synergies between nine different government agencies—from the EPA to HUD, and the Department of Education to the Department of Transportation. Therefore, in the coming years, we must ensure that these agencies continue to receive the resources to be able to adequately address this critical public health issue. Call or write your representatives to voice your thoughts on the importance of protecting funding for public health agencies. We have come so far in addressing lead in this country; let's make sure we can finish the job completely.
Save