IAPHS Staff
From October 2-4, population health scientists, practitioners, and stakeholders will convene at the University of Texas-Austin, for the third in a trio of population health conferences that have been generously supported by the Robert Wood Johnson Foundation.  Improving Population Health: Now, Across People's Lives, and Across Generations to Come, will feature a host of keynote speakers, scientific panels and other activities aimed at generating solutions for improving population health and fostering a culture of health in the U.S.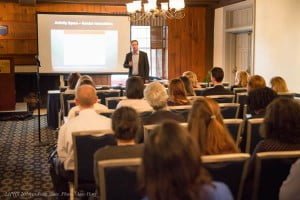 This conference series has grown exponentially since the first one day meeting with at the National Academy of Sciences, Engineering and Medicine. Participation in the 2017 conference has far exceeded expectations and all previous records.  Submissions increased three-fold from the previous meeting and expected attendance has nearly doubled each year.  We expect approximately 360 participants in the 2017 meeting! Although the conference currently has a wait list for more attendees, meeting co-chairs Michelle Frisco and Dorothy Daley are still working hard to make room for as many people as possible.  The rapid increase in the demand for these conferences bodes well for the conference series and the health of IAPHS!
The conference agenda, which can be found here, features four keynote panels:
The Politics of Population Health, featuring Kathleen Sebelius, former U.S. Secretary for Health & Human Services; Mark McClellan, Director of the Robert J. Margolis Center for Health Policy and Senior Health Policy Advisor for Dell Medical School at The University of Texas at Austin; and Joshua M. Sharfstein, former Secretary of the Maryland Department of Health and Mental Hygiene and Director of the Bloomberg American Health Initiative.
Opportunities and Challenges for Advancing Population Health in Urban Areas, featuring Jo Ivey Boufford, former President of The New York Academy of Medicine; Steven Woolf, Director of the Center for Human Needs at Virginia Commonwealth University; Rachel Kimbro, Founding Director of the Kinder Institute's Urban Health Program at Rice University; and Brian Elbel, Associate Professor of Population Health at the NYU School of Medicine.
Landscapes of Despair: Population Health & the Opioid Crisis, featuring Shannon Monnat, Lerner Chair of Public Health Promotion, Maxwell School of Citizenship and Public Affairs, Syracuse University;  Christopher Arnade, Photojournalist & Reporter for The Guardian; and Brian Alexander, Author of Glass House: The 1% Economy and the Shattering of the All-American Town.
Early Determinants of Health, featuring Matthew W. Gillman, Director of the Environmental influences on Child Health Outcomes (ECHO) Program, National Institutes of Health; Perri Klass, Professor of Journalism and Pediatrics at New York University; and Janet Meyer, Chief Executive Officer, Health Share of Oregon.
In addition, twenty-eight scientific sessions over the three-day conference will feature research on population health topics.  A sampling of the offerings includes Population Health & Genetics; Health Disparities; Child Vaccination Coverage; Cultural and Structural Racism; Sleep as a Determinant of Health; the Role of Community Health Workers in Addressing the Social Determinants of Health; Multisector Collaboration; Intellectual Homes for Interdisciplinary Population Health Research; LGB Health; and Immigrant Well-being. The program also includes a poster session, a reception, and many opportunities for networking.
The three-day conference will be at the AT&T Executive Education and Conference Center at the University of Texas at Austin.  The conference is being convened as a collaborative initiative between the Population Research Institute at Penn State University, the Institute for Policy and Social Research at the University of Kansas, the Interdisciplinary Association for Population Health Science, the Kinder Institute for Urban Research at Rice University, and the Population Research Center at the University of Texas at Austin.
This exciting program is the product of extensive effort on the part of the Planning Committee. In addition to co-chairs Dorothy Daley (University of Kansas) and Michelle Frisco (Penn State University), committee members include Lorna Thorpe (New York University School of Medicine), Dawn Alley (Centers for Medicare & Medicaid Services), Jenn Beam Dowd (Department of Global Health and Social Medicine, King's College London), Carolyn Cannuscio (University of Pennsylvania), Merlin Chowkwanyun (Columbia University Mailman School of Public Health), Mark Hayward (University of Texas at Austin), and Justin Denney (Washington State University).
If you are not attending the conference, you can follow IAPHS on Twitter (@ia4phs) to get the latest news. The meeting organizers and IAPHS will be providing meeting highlights while the conference is underway!   IAPHS will also provide more in-depth post meeting analysis highlighting important insights from this year's conference agenda. Stay tuned for more!