Fred Zimmerman
Dr. Fred Zimmerman, IAPHS president, writes regularly about several determinants of population health and how they're affected by current political and economic policy. In January 2018, he was eagerly looking for progress; in December 2018,  he noted some worrying trends. 
Here's his view today.

---

It's been a while since I've checked in with the dashboard of determinants of population health.  After the 2016 election, I decided to keep track of the progress made by the Trump administration toward promises made by then-candidate Donald Trump in the 2016 campaign.

As I observed at the time…

Donald Trump told us that everyone would have better and cheaper health insurance, that the economy would grow at 4% per year, and that he would rid Washington of corruption by "draining the swamp."

These are all measurable things, so I figured it would be a good idea to keep track of how well the President is keeping faith with the American people on these measures.  

The latest data suggest these promises have not been kept. For example, Gallup recently reported that more Americans are now delaying care—including treatment for serious conditions—than at any other time since before Obamacare was passed.  And the Commonwealth Fund reports that worker's contributions to out-of-pocket costs increased from 11.3% of disposable income in 2016 to 11.5% in 2018.  It is surely higher today.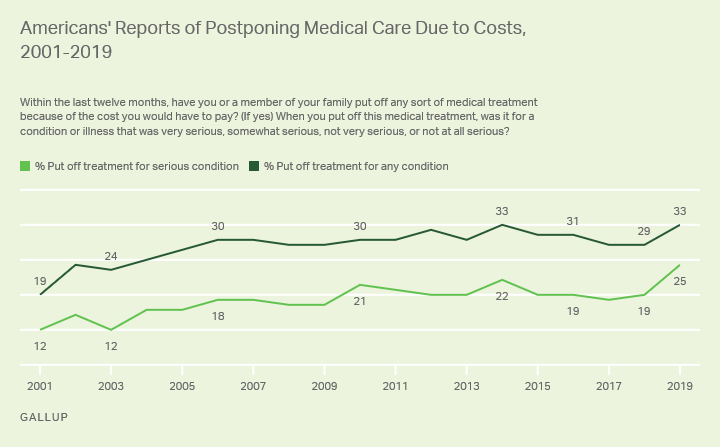 Meanwhile, evidence of corruption in Washington has grown, and economic growth—never that  impressive since 2016—is now expected to decline in 2020.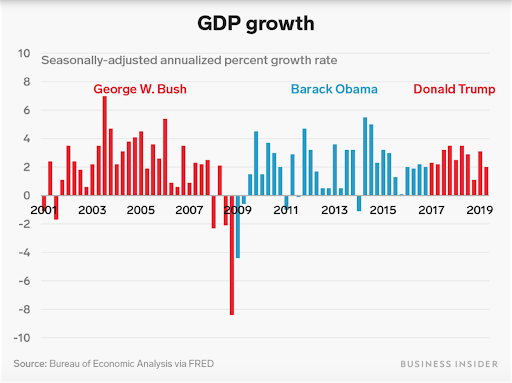 No president has kept all of his campaign promises, but the best ones make meaningful progress in the promised direction.
Franklin Roosevelt campaigned on a promise of a New Deal, with a more activist government that would promote the greatest good for the greatest number of Americans by "distributing wealth and products more equitably, of adapting existing economic organizations to the service of the people."  It is fair to say that Roosevelt kept his promise.  
Ronald Reagan promised a drastic cut in the size of government and in taxes, both promises that were kept.  Reagan also promised that tax cuts would increase government revenue, which didn't happen, but it is fair to say that those who believed Reagan's campaign promises overall were satisfied with what he accomplished.  
By contrast, anyone who voted for Donald Trump because they believed his promises may be disappointed.  Corruption is worse, not better; the economy has grown modestly, not robustly, and is now poised to shrink; and health insurance is more expensive, with increasing percentages of Americans uninsured. It isn't clear whether President Trump lacked the will or the capacity to keep his promises—even in a general sense—but it is clear that by the standards of his own promises, Trump has failed.