Sharon DeWitte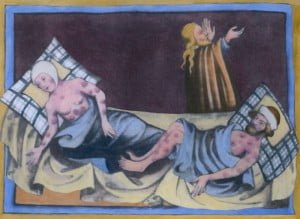 The Black Death, an outbreak of bubonic plague (caused by the bacterium Yersinia pestis), killed tens of millions of people in 14th-century Asia, the Middle East, Africa, and Europe. This epidemic has inspired novels, movies, even Black Death "tour" tee shirts, but what real relevance does it have for us now?
The Black Death occurred over 650 years ago in an ecological, social, economic, and political context that might seem very different from that of today. However, it does provide a startling example of the consequences that arise from highly contagious and deadly disease and other disasters. It may also reveal factors that produce extraordinarily high epidemic mortality.
Understanding the context and effects of the Black Death might benefit living populations given that:
Our species will continue to face old and new diseases for the foreseeable future;
Conditions at the time of the Black Death persist or are at least possible today; and
Increasing globalization connects far-flung human populations, making diseases that occur anywhere on the globe relevant to us all. (This is true regardless of how much you care, or don't, about the well-being of strangers.)
Bioarchaeology of the Black Death
Research using the skeletons of people who died in medieval London has clarified conditions that both influenced and were influenced by the Black Death. For example, studies have shown that life expectancy dropped in England prior to the Black Death. Bad health generally results in shorter lives, so declines in life expectancy indicate that growing numbers of people were in poor health before the epidemic. This occurred during a time of growing social inequality and of climate change that resulted in widespread and repeated famines.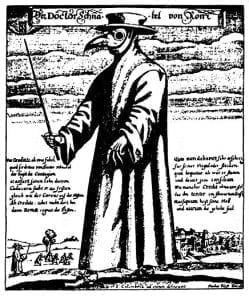 Risk of dying from the Black Death itself was highest for people who were already in poor condition because of pre-existing disease or poor diet. After the epidemic, health appears to have improved, at least for a few generations. This might have occurred because diets and other standards of living got better as a result of dramatically reduced population size. Reduced population size may lead to a favorable balance between people and resources.
These findings may help us develop and deploy tools that could assist populations facing this type of crisis in the future (or at least provide the motivation to begin development).
Benefits for Living People
The potential benefits of research on diseases in the past, such as the Black Death, include revealing what makes people vulnerable to disease and death during epidemics so that we can take action to reduce those vulnerabilities. For example, social inequality and poor diet in a large segment of the population prior to the Black Death might have contributed to the very high level of mortality. This insight should persuade us to decrease social inequalities in access to food and other resources today.
In addition, we should consider tapping into the existing widespread interest in the Black Death to educate the public about improving public health today. Building popular support for programs that combat existing and emerging diseases is crucial, especially because funding is often cut when fears of the last big epidemic die down. Better education about infectious diseases could help convince the public that there are measures we can and should take now to reduce the chances of terrible outcomes from future outbreaks.
Save
Save
Save