Christine Bachrach
The Population Research Center (PRC) at the University of Texas at Austin is one of IAPHS's longest-standing institutional members. With 104 faculty research associates and 67 graduate students spanning 9 colleges at the University, the Center supports interdisciplinary research and training at the cutting edge of population studies.  In 2017, U.S. News and World Report named the Center the number one graduate program for the Sociology of Population.
Population health has long been a central strength of the Center's research and training programs.  Center Director Debra Umberson is a sociologist whose research focuses on the impact of relationships on health across the life course. Other leading population health scholars at the center include Steven Russell, who studies the role of sexual orientation and gender identity (SOGI) in human health, development, and rights;  Bridget Goosby, who studies the role of physiological dysregulation in stress reactivity as a factor in chronic disease onset and severity among African Americans; and Mark Hayward, whose research has focused on how life course exposures and events influence the morbidity and mortality experiences of the adult population.
A key feature of the Center's current activities in population health is the Population Health Initiative (PHI). This is an interdisciplinary research program that connects and supports population health researchers across the UT campus.  Goals of the initiative are to advance population health science through obtaining federal and foundation grants supporting large-scale research and to generate the knowledge base necessary to address the health needs of the population and reduce health disparities. The PHI supports project grants, conferences, colloquium speakers, and awards in pursuit of these goals. The Department of Population Health at Dell Medical School, another IAPHS institutional member, also participates in the PHI.
Another recent initiative is the Aging and Longevity Center, a new interdisciplinary center that aims to enhance the well-being of aging adults via research, teaching, and community outreach.
The PRC also has a vibrant program in Reproductive Health. Joe Potter and his team have led research on the impact of reproductive health policies passed by the state of Texas and a study of oral contraceptive use spanning the US-Mexico border to examine the safety of pill use in populations benefiting from over-the-counter sales. Abigail Aiken studies women's experiences obtaining self-sourced abortion in contexts where legislative barriers prevent safe, legal access through the health care system. Leticia Marteleto and Abby Weitzman focus on inequalities in women's reproductive behaviors and outcomes related to the Zika epidemic in Brazil. The PRC's other two areas of research focus – Family Demography & Intergenerational Relationships and Education, Work, and Inequality – provide important insights and expertise for the Center's work in health.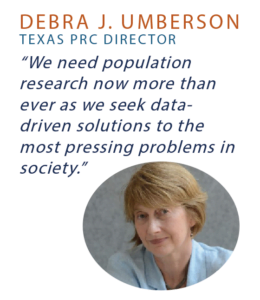 Umberson's leadership of the Center is driven by a commitment to promoting outstanding population research.  Center associates are expected to use rigorous, advanced methodological techniques, publish in high quality scientific journals, and compete for federal and major foundation grant funding.  The Center especially stresses the need for addressing social and economic inequality in all research, particularly inequalities associated with race/ethnicity, gender, and socioeconomic status.
The Center supports research and training through an Administrative Core supporting grant proposals, student services, and other needs; a Scientific & Technical Core that supports data-intensive computing and statistical programming and training; and a Development Core that provides seed grant support and mentorship. The Center also sponsors a Census Bureau Restricted Data Center that provides central Texas researchers a secure research environment to access federal statistical data.  With 77 grants totaling $12.7 million in 2018, it is clear the PRC has developed a successful path to advancing science.
The PRC has been active in supporting and engaging with IAPHS from the very beginning.  Mark Hayward served on the IAPHS Planning Board during 2015-16; the Center donated funds to support early website development and the legal establishment of the Association; and Deb Umberson has continued to generously support IAPHS activities and goals.  IAPHS is proud to have this outstanding Center as an institutional member, and it owes the Center a great debt of thanks for its sustained support.
---
To join IAPHS as an institutional member for 2019, click here.