Monica Gutierrez, Brooke Staley, Sandte Stanley
This is the third in a five-part series highlighting graduate funding experiences and providing tips and advice for those embarking on this journey. See parts one and two here.
For many graduate students, the journey to funding is paved with high hopes and aspirations—but is often unclear and laden with obstacles. While articles and websites with tips and resources can help students navigate this process, the unique stories of success, rejections, or non-linear paths are rarely shared. In this series, we speak to current students and junior faculty about the highs, lows, reflections, and desires around the graduate funding journey. Today we highlight the journey of Connor Martz, Ph.D. student in the Department of Human Development and Family Science at Auburn University.
What one word would you use to describe your funding experience in graduate school? Could you elaborate on why you chose that word and describe your funding journey? 
Fortunate. My department is very accommodating for their doctoral students by guaranteeing internal funding for the duration of the program (either through a Research Assistantship or Teaching Assistantship). This was a significant factor in my decision to attend Auburn and provided reassurance if my attempts to secure external funding were unsuccessful. 
My advisor, David Chae, encouraged me to apply for the NIH Predoctoral National Research Service Award (F31), and I was successful on my first submission. He emphasized that gaining early experience in grant writing — which is crucial in academia, yet often absent in doctoral training programs — is advantageous for those interested in an academic career. On top of that, if funded, an F31 can serve as a stepping stone for future funding opportunities. 
What was your biggest obstacle or difficulty in the funding process? 
I was naïve to how many components there are to the F31 application (and NIH proposals, in general)! Letters of support, undergraduate transcripts, sponsor statements, a training plan, and more, on top of all traditional NIH proposal documents (e.g., biosketches, budget, human subjects, etc.). Time management and staying on top of what was needed for the application was challenging, especially since I was simultaneously taking courses and working on other research projects. I also find writing persuasively about myself difficult. Although daunting at the time, having this experience early on in my career should at the very least set expectations for future funding applications. 
How do you take care of yourself in the face of rejection, or what recommendations do you have for others to learn to buffer rejection?
I remind myself to persist, and that tenacity is vital to success in academia. Grant reviews can be particularly disheartening because a funding decision can ultimately come down to who is selected to review your application (in other words, luck). 
If you could give some words of wisdom to your junior self, what would that be?
Be patient. The NIH review process is lengthy, and it took about 9 months after submission for my Notice of Award to arrive. Anticipate having to re-apply, re-read the SF424 several times, and get comfortable drafting letters of recommendation for yourself on behalf of your letter writers. 
What word would you use to describe how you felt when you received notice of your award? 
Surreal. It was (and still is) surreal to think that the NIH chose to invest in me as a researcher. I am very fortunate to have great mentors. 
How did you celebrate?
Dinner and drinks with the village of people it took to prepare and submit the grant! 
Thank you, Connor, for speaking with us! Find out more about Connor's ongoing work here!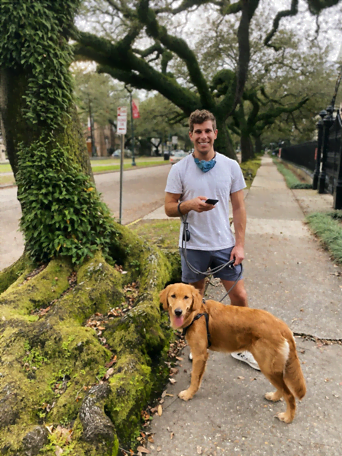 Connor Martz
My research interests are centered around health equity, including structural, sociopolitical, and neighborhood factors which shape population health. My dissertation applies these interests to study biopsychosocial mechanisms of disease progression among Black women with lupus — a condition with stark racial inequities largely due to systemic racism experienced across the life course.