Sasha Walek
Designing and implementing effective interventions and shaping policies that demonstrably improve the health and well-being of communities is the goal of every population health scientist. But how do you know if an intervention or policy is having its intended effect? 
In an IAPHS 2019 Conference session moderated by Brian Elbel, associate professor in the Departments of Population Health and Medicine at NYU Langone, researchers presented findings from targeted interventions implemented in underserved communities, and evaluated the impact of different domestic and international policies on health outcomes.
Managing Hypertension in New York City's South Asian Community
Nadia Islam, also an associate professor in NYU Langone's Department of Population Health, presented early findings from a multi-level electronic health record (EHR) and community health worker (CHW) intervention she and her colleagues from the NYU-CUNY Prevention Research Center (NYU-CUNY PRC) developed. The intervention, called Project IMPACT, targeted immigrant-serving primary care practices aimed at improving hypertension control among South Asian patients. South Asians, Dr. Islam explained, have disproportionately high rates of cardiovascular disease, diabetes, and obesity while facing numerous cultural, linguistic, and social barriers to accessing healthcare. This population also tends to develop hypertension at a lower body mass index and at younger ages. According to Dr. Islam, no previous studies have developed models for hypertension prevention management in this population.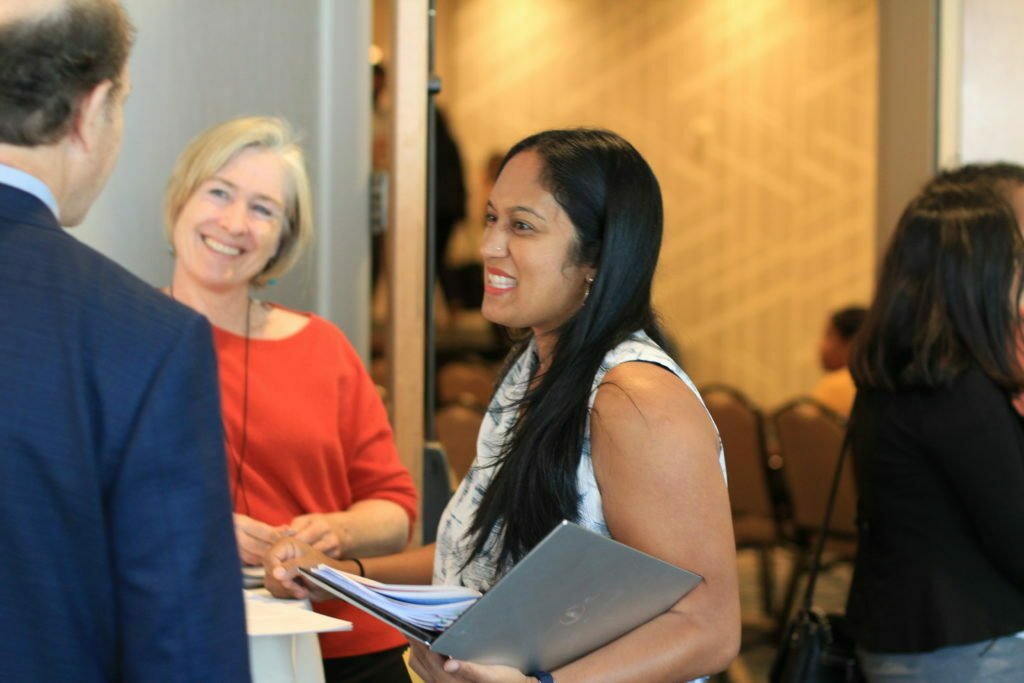 Project IMPACT includes an EHR component so that primary care practices can better identify hypertensive patients and implement mechanism to bring them back to the clinic, as well as a Community Health Worker (CHW) intervention to build trust with patients and serve as a bridge between communities and health systems. It was important that each component be designed with a mixed methods approach, explained Dr. Islam. The EHR component was a stepped wedge design that collected individual- and practice-level blood pressure data from the EHR at 6-month intervals (n=6,974) while the CHW component was a patient-level randomized control trial-design, with blood pressure measurements collected from patients at baseline and eight-months follow-up (n-304). 
Dr. Islam was pleased to report that study participants who completed the CHW intervention experienced a greater reduction in both systolic and diastolic blood pressure, and blood pressure control improved more than 30 percent. Additional partners in the study include Healthfirst, New York's largest not-for-profit health insurer, IPRO, 16 primary care provider practices, and multiple South Asian community-based organizations.
Did the Affordable Care Act's Contraception Mandate Reduce Unintended Pregnancies?
Nearly half of all pregnancies in the United States are unintended (either mistimed or unwanted). One of the central tenets of the Affordable Care Act was the contraception mandate, which began covering 18 FDA approved contraceptive services without charging copayments or coinsurance in 2012. Michigan State University doctoral student Colleen MacCallum and colleagues investigated whether or not the rollout of the ACA had any impact on unintended pregnancies. 
Using data from the National Survey of Family Growth from 2008-2015 (with a sample size of 7,409 women), Colleen and co-investigators examined unintended pregnancies in the two years prior to the contraception mandate and the two years following rollout. Findings indicated that insurance coverage for women increased dramatically, and the use of long-acting reversible contraception increased by nearly 5 percent. However, although unintended pregnancies decreased from 5.5 percent to 4.9 percent, the decrease was not statistically significant. 
…although unintended pregnancies decreased from 5.5 percent to 4.9 percent, the decrease was not statistically significant. 
Colleen suggested a number of possible reasons why the mandate did not have more of an impact on reducing unintended pregnancies. First, the contraception mandate affected only women who had health insurance. Secondly, access, affordability, and awareness are only three of many barriers women face in obtaining resources, she explained, adding that there are other factors that affect contraception choice. Another limitation is that with the use of cross-sectional data, researchers cannot track individual behaviors over time. As a result, future research in this area should include analysis using longitudinal data.
Firearm Purchases Without Background Checks in California
Approximately 100 Americans are killed with guns every day and on average, 100,000 Americans are wounded with guns each year. California has the strongest gun safety laws (passing comprehensive background checks in 1991) in the country and one of the lowest gun death rates. Prior to the enactment of universal background checks, 45 percent of gun owners in California purchased firearms without undergoing a background check.  Dr. Nicole Kravitz-Wirtz, an Assistant Professor with the Violence Prevention Research Program in the Department of Emergency Medicine at the University of California, Davis investigated the nature of gun ownership in California since 1991, including background check compliance.
Roughly half of all firearms in California are owned by 10 percent of gun owners who each own 10 or more firearms.
Analyzing data from the California Safety and Wellbeing Survey, a statewide survey that covers a wide range of topics related to gun ownership, Dr. Kravitz-Wirtz and her colleagues found that 17 percent of those who purchased firearms did so without a background check, which is quite concerning given the state's universal background check legislation. Another notable finding was the concentrated nature of gun ownership in the state: Roughly half of all firearms in California are owned by 10 percent of gun owners who each own 10 or more firearms. In closing, Dr. Kravitz-Wirtz reminded the audience that universal background check policies have near universal public support, even among gun owners. However, despite California's strong gun safety laws, lapses in implementation and enforcement remain.
The Influence of Pedestrian-Friendly Zoning on Weight
Shannon Zenk is a co-principal investigator on a grant from the Robert Wood Johnson Foundation's Health Data for Action program to examine how community zoning policies and environments—such as walkability and access to parks—affect the health of residents. She presented preliminary findings on whether active-living zoning in neighborhoods could help offset the effects on body mass index of living in a neighborhood with a high volume of fast food restaurants.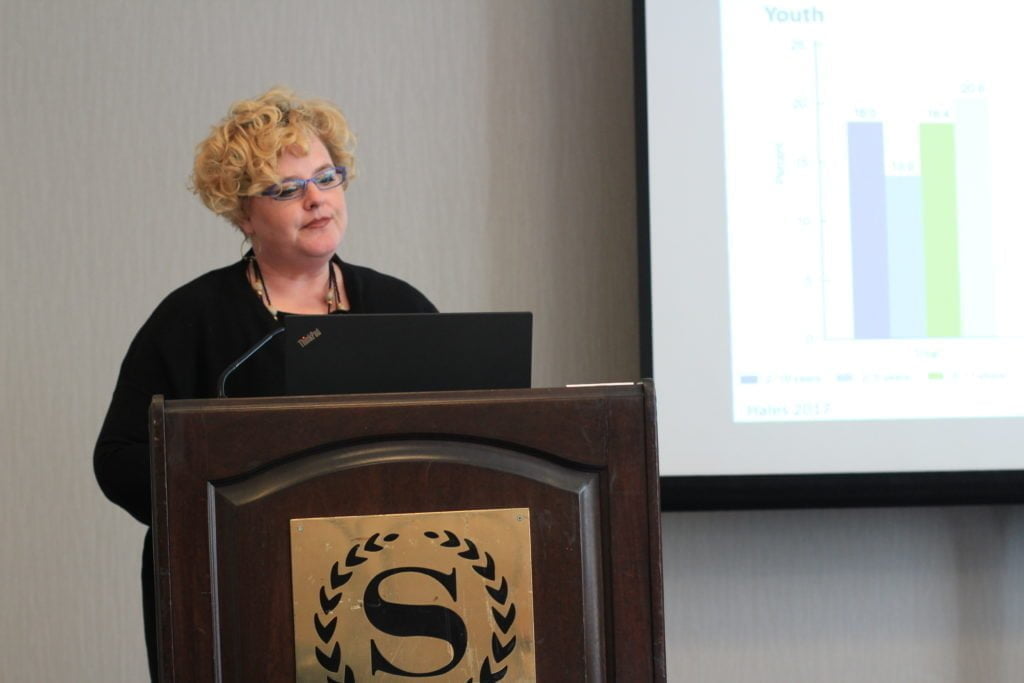 Shannon and her co-investigators used longitudinal data on patient body weight, demographics, and health status from Athenahealth for approximately 11 million people across the country and linked it to existing public policy and commercial environmental datasets. Surprisingly, the research team did not find any evidence in adults or older adults that supported their hypothesis. For example, in the case of fitness facilities, they found that more fitness facilities were related to a lower body mass index regardless of the zoning of neighborhoods.          
Looking to Mexico for Best Practices on Taxing Sugary Drinks
In 2014, Mexico became the first country in the Americas to tax sugar-sweetened beverages—adding one peso per liter (approximately 10 percent) to the price of all beverages with added sugar. A study published in Health Affairs reported that the tax led to a 5.5 percent drop in purchases the first year and nearly 10 percent in the second year.  
In order to glean more insight into the success of Mexico's sugary drink tax, David Washburn, an assistant professor at Texas A&M University School of Public Health, presented findings from a qualitative research project that included 31 interviews with stakeholders in passing Mexico's sugar tax. He found that the role of civic society was incredibly important in passing the tax and noted that academics do not tend to be the most successful lobbyists. A key political ally in passing the tax was Mexico's Ministry of Finance. Selling the tax as a revenue generator was crucial because Mexico was going through a financial crisis at the time due to falling currency and oil prices. Interestingly enough, Dr. Washburn's interview subjects also reported that the public cares little about the tax and barely seemed to notice its passage.