Elaine Meyer
Urban Health Panelists Urge Cross-Sectoral Collaborations & Data Linkages
Rachel Kimbro, PhD, a professor of sociology, and her colleagues at Rice University made a discovery after seeking out local data sources in Houston: "We were going to the same city agencies for the same data; we were overlapping and redundant," she said in a presentation as part of a keynote panel on the second day of the Improving Population Health conference. To solve this, the group of multi-disciplinary academics, under the leadership of the Kinder Institute for Urban Research at Rice, set out to create a "HIPAA compliant, secure computing environment that would allow us to put all of our contextual data for Houston in one spot."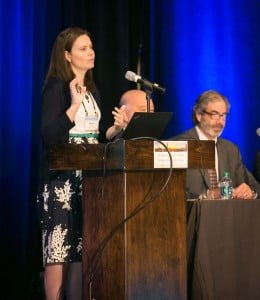 The tool they created, the Houston Community Data Collection, has been not only a boon for researchers–community groups, such as a food bank that needed help targeting food programs for low-income children, can also use it. The researchers also recently used available data to estimate where flooding would occur from Hurricane Harvey, and they've invited site visitors to add to the data by entering the flood status of their homes.
Dr. Kimbro and the other speakers on the "Opportunities and Challenges for Advancing Population Health in Urban Areas" keynote panel discussed using data and partnering across sectors to achieve health improvement and reduce disparities among communities and geographic populations—goals that often overlap with the work of those in other sectors.
"If we band together though cross-sector collaboration, there's an opportunity to leverage our different talents and resources in ways that aren't possible if each sector operates on its own," said Steven Woolf, MD, MPH, director of the Center on Society and Health at Virginia Commonwealth University.
In his talk, Woolf described how historic policy decisions created some of the disparities that are with us today. For example, Syracuse, New York, which has the greatest degree of concentrated poverty of African Americans in the country, had, like many U.S. cities, red-lining policies that allowed real estate lenders to avoid giving mortgages to black families, thereby keeping them stuck in certain neighborhoods. To make matters worse, in the 1950s, the New York State government decided to route Interstate 81 through the city, which decimated a vibrant black community. This decision meant that a park, which once offered a bandstand and picnicking, is now "literally in the shadow of this highway," said Woolf. "Those choices ended up producing the concentrated poverty that we have today," he added. "It destroyed the economy and the social capital of the community."
The same way policies can create inequalities, they can reverse them, according to Woolf. He pointed to the Community Reinvestment Act, which requires the banking sector—which decades ago was involved in redlining—to demonstrate investment in low and moderate-income communities.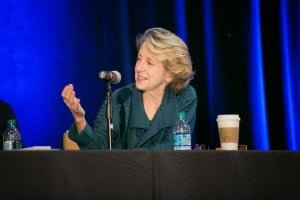 The idea of "health in all policies" has become a popular frame to approach the idea of working across sectors to improve health. However, it can be challenging and require persistence, as illustrated by Jo Ivey Boufford, MD, MPH, former president of the New York Academy of Medicine (NYAM), who with the New York State Health Department, worked on a major policy effort called the Prevention Agenda. Because hospitals and health workers' unions tend to shape health policy in New York State, the focus of health improvement tends to look toward individual, patient-based approaches rather than community-focused ones, said Dr. Boufford.
But working with the New York State Health Department, NYAM has brought together community coalitions as well as hospitals from the state's counties to work toward goals of their choosing from the Prevention Agenda—such as preventing substance abuse and promoting a safe environment. Momentum for the idea of a cross sector approach to health is building, said Dr. Boufford. In his January "state of the state" speech, Governor Andrew Cuomo introduced an initiative called Health Across all Policies, and in March, twelve state agencies convened around the goal of promoting healthy aging, said Dr. Boufford.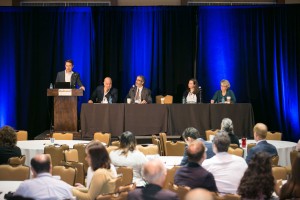 Similar to Dr. Kimbro, Brian Elbel, PhD, associate professor in the Department of Population Health at NYU Langone Health, said his research benefits from comprehensive urban administrative data from multiple sectors, particularly in New York City. He and his team are creating a picture of children's urban food environment there to understand some of the drivers of race and class disparities in child obesity, using data that because of its quality and comprehensiveness, allows them to avoid common statistical and analytical challenges. The team is using data from the New York City's Department of Education, New York City Department of Health, and New York Department of Agriculture and Markets to track 800,000 children's height, weight, race/ethnic group, and poverty status and their proximity to various food options, such as supermarkets and fast food restaurants. Findings from this study could help policymakers and communities work to increase or decrease access to healthy or unhealthy food sources.
It can seem from these panel discussions that collaborations might naturally materialize, but in fact it, they're a lot of work. Dr. Woolf credited the conference's sponsor, the Robert Wood Johnson Foundation, with encouraging cross-sector collaboration. "It has brought together disciplines that didn't know about each other very well," like finance, community development and health, he said.