Malaika Hill
This summer Courtney D. Cogburn, PhD, assistant professor at the Columbia University School of Social Work, gave a TEDxRVA talk on the impact that immersive virtual reality (IVR) can have on helping society understand and address the role that racism plays on racial inequities in health. I interviewed Dr. Cogburn about her current research and its practical implications.
Hill: What inspired you to explore IVR as a tool for creating empathy to heal social divides?
Dr. Cogburn: There is a disconnect between believing in racial justice and in racial equality on the one hand, and really understanding the nature of racial inequality on the other. In my work and in my engagement, I find that people don't understand racism as an institutional, structural, and cultural phenomenon and how it has historically and contemporarily disadvantaged whole groups of people. Our hope is that we can develop more effective ways to help people think of racism and racial disadvantages in society in a more macro or structural way, and not just focus on individual interactions with each other.
We started to think about ways that we can engage people using media and technology to help them better understand the circumstances of racism in our society.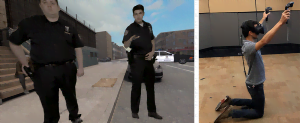 What is an immersive virtual reality (IVR) experience?
Dr. Cogburn: An IVR experience is meant to put you into the experience of someone else who is different from you or into the "virtual shoes" of another. Using this technology, we can allow you to walk in someone else's shoes and experience something from their perspective. What that might entail is changing the characteristics of a virtual avatar. A person experiencing the IVR  would go through a virtual experience in the body of an avatar of a different race, height, or weight than their own.
Hill: What is your study model and what stage you are in your research?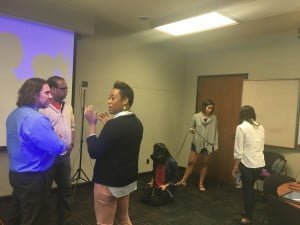 Dr. Cogburn: We started off with a broad idea of how we might represent racism in virtual reality, and through this collaboration, we have landed at different computer-generated experiences of a black male named Michael Sterling at ages 7, 15, 30, and 50. During the IVR experience, you're able to see your face, hands, and body in mirrors  at various points throughout the experience. You have hand controllers that allow you to actually touch and interact with things in this virtual space. You can grab things; you can throw things and otherwise engage not only by looking around but also by touching and interacting with the space.
There are two important components about the design of the project. One is that we have used both quantitative and qualitative data to help us carefully construct the scenes, so everything  we create is realistic and based on things that have actually happened.  The second component is that we apply experimental design to the virtual experience so that we can get a sense of whether we're shifting things, like empathy or implicit racial bias, but more importantly, whether we're changing the way people think and act in regards to racial inequality.
Hill: Can you walk us through Michael's virtual experiences?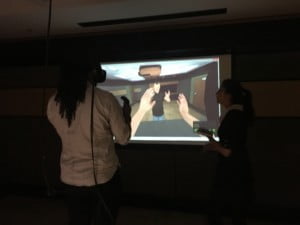 As Michael Sterling at age 7, you experience racial discrimination from your peers (taunting) and your teacher (inequitable disciplinary response). At age 15, you have an encounter with police officers (inspired by data on Stop and Frisk practices in New York City). At age 30, you experience discrimination in a workplace setting while interviewing for a job. At age 50, we ask you to reflect on these experiences and to also listen to narratives from others who have had similar experiences.
What are the practical implications of your research?
Dr. Cogburn: This research is all meant to capture something structural about racism—social patterns that are happening in multiple spaces—and that it's multidimensional. Structural racism isshowing up in various ways that can be chronic and accumulate across the life course. In the IVR experience, we try to give people a sense of the significance of racism in our society and in people's day-to-day lives. I argue that this understanding is an important component of the ways people engage with issues of racial inequality, including inequities in health.
Resources
Virtual Human Interraction Lab. Stanford University. https://vhil.stanford.edu/. Accessed December 4, 2017.
Williams DR, Mohammed SA. Discrimination and racial disparities in health:
evidence and needed research. J Behav Med. 2009 Feb;32(1):20-47.
Lewis TT, Cogburn CD, Williams DR. Self-reported experiences of discrimination
and health: scientific advances, ongoing controversies, and emerging issues. Annu
Rev Clin Psychol. 2015;11:407-40.
Phelan JC, Link BG. Is Racism a Fundamental Cause of Inequalities in Health? Annual Review of Sociology. 2015;5:311-330.
Bio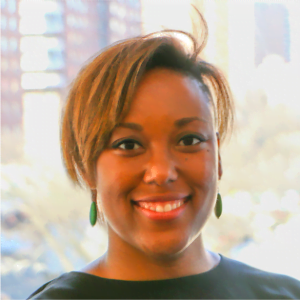 Courtney D. Cogburn, PhD, is an assistant professor at the Columbia School of Social Work and a Faculty Affiliate of the Columbia Population Research Center. Her research is centered around the relationships between racism-related stress and racial health disparities.