IAPHS Staff
Check out IAPHS's new conference page for the Call for Submissions for the association's 4th annual interdisciplinary population health research conference.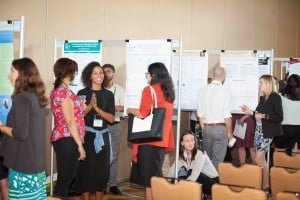 The conference, "Pushing the Boundaries of Population Health Science: Social Inequalities, Biological Processes, and Policy Implications," will convene October 3-5, 2018 at the National Academies of Science, Engineering and Medicine in Washington, DC. The deadline for submissions is March 15, 2018 and those submitting will be notified of decisions by June 15, 2018.
The Program Committee encourages submissions in two categories. Panels of Original Contributions are interdisciplinary panels that present original research or engage in innovative discussions around a significant issue relevant to the conference theme. Poster presentations by individuals or co-authored teams may focus on original research, practice, theory, methods, new ideas on student training, or technological innovations.
The Committee seeks submissions that will highlight the promise of interdisciplinary population health science and action that can improve population health across the life course. Submissions from postdoctoral scholars, graduate students, clinical students and trainees are especially encouraged.
Read the full Call for Submissions for more details and instructions on how to submit.
Thanks go to Allison Aiello and Bob Hummer, both of the University of North Carolina at Chapel Hill, who co-chair the Program Committee. They have assembled a distinguished group of 27 other population health scientists to participate in planning the conference program. Sue Bevan, of SSB Management, is supporting the submission and review process.
Registration for the October conference will open April 1, 2018 for members of IAPHS and May 15 for non-members. Join IAPHS for early and deeply discounted conference registrations!
[fusion_button link="https://iaphs.org/join-iaphs/" title="" target="_blank" link_attributes="" alignment="center" modal="" hide_on_mobile="small-visibility,medium-visibility,large-visibility" class="" id="" color="default" button_gradient_top_color="" button_gradient_bottom_color="" button_gradient_top_color_hover="" button_gradient_bottom_color_hover="" accent_color="" accent_hover_color="" type="" bevel_color="" border_width="" size="" stretch="default" shape="" icon="" icon_position="left" icon_divider="no" animation_type="" animation_direction="left" animation_speed="0.3″ animation_offset=""]Membership Information[/fusion_button]  [fusion_button link="https://ia4phs.z2systems.com/np/clients/ia4phs/membershipJoin.jsp" title="" target="_blank" link_attributes="" alignment="center" modal="" hide_on_mobile="small-visibility,medium-visibility,large-visibility" class="" id="" color="default" button_gradient_top_color="" button_gradient_bottom_color="" button_gradient_top_color_hover="" button_gradient_bottom_color_hover="" accent_color="" accent_hover_color="" type="" bevel_color="" border_width="" size="" stretch="default" shape="" icon="" icon_position="left" icon_divider="no" animation_type="" animation_direction="left" animation_speed="0.3″ animation_offset=""]Join Now[/fusion_button]