IAPHS Staff
This month's Institutional Member profile features Duke University's Department of Population Health Sciences. Housed in the School of Medicine, this new department seeks to bring together faculty and staff to create a multidisciplinary space that generates important health insights, guides them into practice, and prepares the next generation of population health scientists to improve the well-being of communities everywhere. They carry out this mission through research; scientific engagement with healthcare practitioners; and education programs that blend health services research, implementation science, epidemiology, and measurement science. Three exciting programs demonstrate the Department's commitment to Population Health Sciences education, including a new graduate degree program and two professional development opportunities for population health scientists.
The Department will welcome its first group of Master of Science in Population Health Sciences students in August. The program will equip students with a solid foundation in population health with a focus on data-driven inquiry. The course of study includes theory and practice in both classroom and real-world settings. In addition, second-year students will take part in a team-based practicum and complete individual capstone projects tailored to their scholarly and career interests.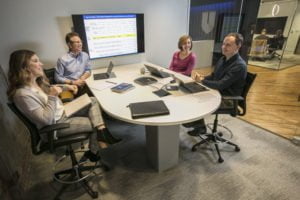 Each June, the Department offers a Population Health Sciences Summer Institute, teaching research methods and study design to early- to mid-career researchers and professionals working in health care and health services research. This year's two-day workshops go broad and deep into four areas—patient-reported outcomes, qualitative research, topics in population health sciences, and dissemination & implementation science. These short courses will help investigators approach their research from multiple perspectives and give them the skills to formulate questions, analyze data, and translate research insights into practice.
Duke University is one of ten schools nationally awarded a K12 career development grant from the National Heart, Lung, and Blood Institute (NHLBI) to develop five highly trained scientists capable of moving science into practice for heart, lung, blood, and sleep disorders. Currently, one K12 Scholar's research focuses on farm-to-table food services at historically black colleges and universities to improve student health, and the other scholar's research focuses on an intervention that helps older adults age in place.
The Department is chaired by Lesley Curtis, who is also a Professor in Medicine and the Interim Director of the Duke Clinical Research Institute.