Lourdes Rodriguez
The jury is out, and it's a hung jury.
The third keynote panel of the 2018 IAPHS conference, Technological Innovations and Population Health…Friends, Foes, or Both?, spurred a lively discussion about the possibilities in population health strategies informed by advancements in genomic medicine, and the need to curb our enthusiasm. The panel, organized by Dr. Allison Aiello and moderated by Dr. Lorna Thorpe, featured:
       

Dr. Josh Denny

,  Vanderbilt University Medical Center (

josh.denny@vanderbilt.edu

).
Followed by thoughtful responses from:
Josh shared studies about clinical decision-making (treatment or diagnosis) informed by machine learning and genetic markers. These examples were offered to set up what he called "the next generation of Framingham,": the All of Us Research Project.  This ambitious cohort study seeks to recruit 1 million participants with a focus on adding diversity to genome associated studies, the majority of which  look only at individuals with European ancestry. The very large sample will be recruited both by teams at academic research centers across the country and by encouraging volunteers to join via a national network of pharmacies. The initial data collection would include blood and urine samples, physical exams, surveys, and possibly wearable technology (think Fitbits). A data portal will allow data access at various levels, including minimum access to the general public, personalized access to participants in the panel, restricted access to researchers and secured access to institutional partners.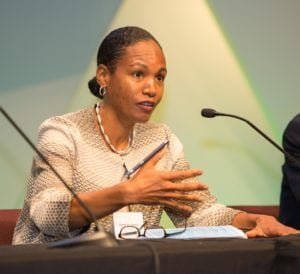 In response to Josh's presentation, Dr. Ebony Boulware invited us to think beyond precision medicine and consider "precision population health," which she defined as using data to drive community and population health improvement rather than the mass delivery of individualized prevention activities.
She exhorted us to consider two types of contexts, the individual (informed by the genome, for example) and the social and local community contexts. When we talk about very precise interactions, she added, we do not affect factors outside of the healthcare system, such as  food insecurity or poverty. She offered an example from her work in Durham, NC that in 2016 began collaborative data-sharing efforts between the public health department, a nonprofit organization (Dataworks), a Federally Qualified Health Center, and Duke. This deidentified, geocoded, and aggregated data is available publicly via a platform that links the health system data to other data (i.e. civic engagement, housing, infrastructure, amenities and census). Their goal is for this data to inform decisions about allocating existing resources, interventions, and highlight concentration of need.
Some very important questions remain, including:
        How can we convene community stakeholders to use these data?

        Can democratized data models be leveraged to measure collective impact of interventions?

        How can we unpack interactions among determinants in community to guide precise strategies?
Finally, speaking as a historian, Alfredo Morabia made the case that our challenge isn't technical;  rather, our challenge is the population health thinking (paraphrasing Aretha Franklin, think about what you're trying to do [to this data]). To make his case, he drew from examples through history, including 17th century hand-tabulated "bills of mortality," when the population health thinking challenge was how can you can make predictions and comparisons using aggregated data?, to the 1982 CPSII cancer prevention study in which 1.2 million Americans provided data to help understand cancer etiology.  There, the population health thinking challenge was the integration of epidemiology and biostatistics to unravel inferences.
He posits that while in 2018 the overlaying of data and integration may seem like THE challenge of the All of Us research project, the real problem is one rooted in ethics: what are you going to do to these data?
The discussion that followed challenged panelists to consider:
        How a non-representative sample could be solid ground for comparisons.

        How to ensure that the analysis of a non-representative sample does not stymie progress towards addressing inequities

        That open access to data will not help with the lack of representation,

        That in divorcing the biological data from the contextual data we may exclude some of the underlying processes that drive differences, and

        Whether conducting community-based research (thinking about the outreach portion of All of US), may be an opportunity to train the next generation of leaders in research.
Personally, I fear the use of socially constructed categories to drive the analysis of genetic data. In the face of this fear, I take heart in the thoughtfulness of colleagues on both sides of the argument for precision medicine research that serves all of us.