IAPHS Staff
Join IAPHS for its 4th annual conference! The 2018 Program Committee, led by Allison Aiello and Bob Hummer, has put together an outstanding program, now available online.  You can register here, enjoying Early Bird rates through August 1, 2018.
The program features:
Plenary and concurrent panels showcasing the latest interdisciplinary research and debates in population health science;
Poster sessions and receptions for one-on-one discussion about new issues and research;
A symposium, Population Health Science in the United States: Trends, Evidence, and Effective Policy, jointly organized by IAPHS and the Roundtable on Population Health Improvement, to be held prior to the start of IAPHS sessions; and
Roundtable discussions on professional development issues and communicating population health research.
IAPHS Conference Preview
 "Pushing the Boundaries of Population Health Science:
Social Inequalities, Biological Processes, and Policy Implications"
October 3-5 (Wednesday to Friday), 2018
Washington, DC
As the conference title suggests, the program emphasizes three recurring themes:
Social Inequalities: Several sessions feature research and discussion on the causes of racial, socioeconomic and gender minority disparities in health and how these have evolved over time.  In one panel, National Institutes of Health officials discuss the forthcoming strategic plan for health disparities.
Biological Processes: Attention to the linkage between social and policy determinants and the biological processes through which they operate on health threads through many sessions.  One plenary, Innovations in Biosocial Linkages Across the Life Course, addresses the integration of social and biological determinants in research.  Additional sessions bring in genetic and epigenetic perspectives; physiological stress, immune function, and the microbiome.
Policy: The actionable mechanisms for improving health and reducing disparities is another theme that weaves through the conference offerings. The symposium focuses on the challenges of developing evidence and common ground for population health policy; a follow-up session on Friday morning will pull together an agenda based on suggestions stimulated by the symposium.  A plenary session, Political Economy and Population Health in the American States, focuses in on state-level policy, while other sessions address the health effects of policies at the local, state, and federal levels and issues such as immigration, drugs, and earnings.  Yet others look at population health interventions, the integration of social and health services, and environmental interventions.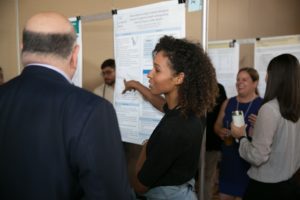 Other recurrent themes include the role of new technologies in population health; the use of diverse methods and data to advance knowledge; population health science training, life course perspectives on health and health disparities.  The plenary, Technological Innovations and Population Health…Friends, Foes, or Both?, brings together leading experts to discuss the opportunities and challenges of new technologies for population health science and intervention.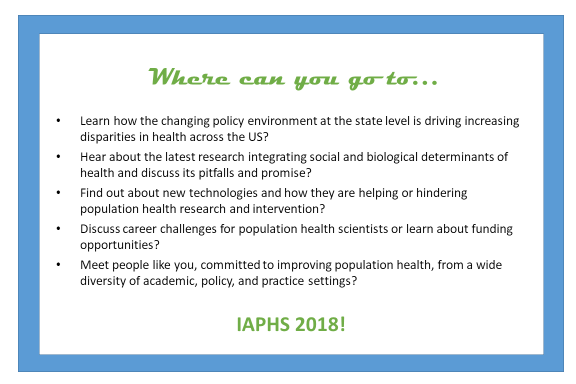 IAPHS members whose memberships are current through December 2018 enjoy deep discounts on meeting registration fees.  There is a link on the registration site to join or update your membership so that you can take advantage of the lower rates.
The 2018 conference is supported by the Robert Wood Johnson Foundation, the National Academy of Medicine Roundtable for Population Health Improvement, the Department of Health Policy and Management at George Washington University,  RWJF Health Policy Research Scholars Program,   Institute of Behavioral Science, University of Colorado, Colorado University Population Center, Public Health National Center for Innovations, and the Public Health Accreditation Board (PHAB).
Many thanks go to:
The Program Committee for their vision and hard work in organizing the program
Shawn Bauldry, Lynne Cossman, and Julia Wolf for organizing the roundtables
Sue Bevan for conference management
NAS staff Alina Baciu, Hope Hare, and Patsy Powell for their logistical support
Find the latest information about the conference at https://iaphs.org/conference/, and about membership in IAPHS at https://iaphs.org/join-iaphs/individual-membership/.