Kristin Harper
A Fraught Embrace: The Romance & Reality of AIDS Altruism in Africa, by Ann Swidler and Susan Cotts Watkins (Princeton UP, 2017)
Reviewed by Kristin Harper
In A Fraught Embrace: The Romance & Reality of AIDS Altruism in Africa, Ann Swidler and Susan Cotts Watkins provide a scathing, often funny, and always compassionate look at donor-sponsored AIDS prevention programs in Malawi.
A bad romance
In a clever conceit, Swidler and Watkins argue that the foreign donors who fund these programs and the local brokers implementing them are like two lovers embarking on a romance. On the one hand, donors hope to end the AIDS crisis by transforming aid recipients into model humans with stainless and rational sex lives; on the other hand, brokers hope to accrue material benefits for themselves and their kin by working on HIV prevention projects. Each party in the relationship is invested in keeping the romance (i.e., the project) alive, often willfully ignoring signs of trouble.
For example, donors are typically happy to waive rigorous evaluations of programs' effectiveness at preventing new HIV infections. And brokers dutifully carry out interventions they know will be ineffective, fighting HIV with posters, banners, dramas, songs, billboards, and endless workshops and trainings. In this way, donors can continue to present their efforts as worthwhile, both to themselves and the world, and brokers can retain their positions in one of the most lucrative industries in Malawi.
All too often the romance fizzles, however, as "noble dreams" clash with "everyday reality." And in many cases, the relationship was never meant to be a long-term commitment. As a result, rural Malawi is littered with abandoned HIV prevention projects that were always of questionable benefit.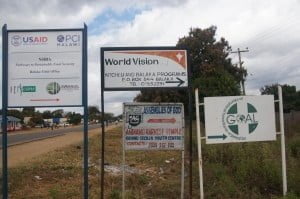 The need to understand systems
Swidler and Watkins use this book to make several important points about the current state of HIV prevention in sub-Saharan Africa. First, they argue that for overseas donors to undertake any sort of successful AIDS intervention, it is essential for them to understand the context in which brokers live and work. They note, "Before attempting to transform the lives of others… it is important to understand the experience of those one is trying to help—especially… the lives of the brokers upon whom altruists are so dependent." What foreign donors may view as misuse of resources or nepotism on the part of brokers, for example, the brokers themselves may view as meeting core obligations to family and friends. Without understanding the system in which their local partners are operating, it is impossible to develop a functional intervention.
Second, the authors make the point that this whole endeavor—to protect Africans from AIDS by transforming them into gender-egalitarian, democratic, autonomous individuals in the Western mold, in the hopes that this will protect them from HIV—is essentially futile. Rigorous evaluations of interventions that attempt to change behavior in order to prevent HIV infection have been uniformly disappointing–a phenomenon not unique to Africa. When it comes to sex and STDs, behavior-change interventions have failed miserably in the West as well, as Allan Brandt deftly shows in his book No Magic Bullet: A Social History of Venereal Disease in the United States Since 1880. It may seem baffling that donors expect the same type of interventions that failed to prevent STD infections in the US throughout the twentieth century to succeed in an entirely different culture, half a world away. But this situation makes more sense if we view these interventions as symbolic and performative: donors want to do something, anything, to help—as long as it meets their definition of affordable.
The facade of sustainability
Swidler and Watkins explain that donors are uncomfortable making long-term commitments to provide material aid. But training volunteers to go out and change the behavior of their neighbors is cheap, and this also gives projects the façade of sustainability. "These donors pride themselves on using their money for 'leverage'—to create innovations that, if successful, governments (or other donors) will sustain. They do not want to become responsible for providing services that they believe governments should provide; they do not want to constrain their ability to provide 'new ' solutions by being tied to earlier projects, even the most successful ones." Although volunteer programs are almost never "sustained," collapsing as soon as the money departs, hope springs eternal with each new intervention. By mutually pretending that these programs work and are made to last, donors and brokers can keep their fantasies intact and the romance of AIDS altruism alive.
Modest realism
Swidler and Watkins end their book by making some practical suggestions. They make clear that wanting to do good at long distance is a noble impulse—but also a very difficult undertaking. They propose that instead of promising innovation and transformation (the stuff of fantasies), donors focus on modest realism—and on delivering the type of aid that people actually want (such as clean water and school fees). Furthermore, they advise donors to be cognizant that patron-client relationships represent the core of the political economy in Africa, and that whether they want to be or not, they will be treated as patrons (with the attendant obligations). Finally, the authors encourage donors to see project sustainability for the myth it is. Real help requires real commitment. As the authors conclude about tangible, reliable aid directed at a community's self-professed needs, "Providing these things, even on a small scale, may do more than all the soaring ambition of programs that promise transformation on the cheap."
This book should be required reading for students in public health programs—and for anyone working in the AIDS industrial complex. It joins a number of other important books published on HIV programs in Africa in the past year or two, including Anne Esacove's Modernizing Sexuality: US HIV Prevention in Sub-Saharan Africa; Kenny Maes's The Lives of Community Health Workers: Local Labor and Global Health in Urban Ethiopia; and Anat Rosenthal's Health on Delivery: The Rollout of Antiretroviral Therapy in Malawi. By shining a light on what is and is not working to prevent new HIV infections and reduce AIDS mortality in Africa, perhaps donors can truly "do good better," in the words of Swidler and Watkins.